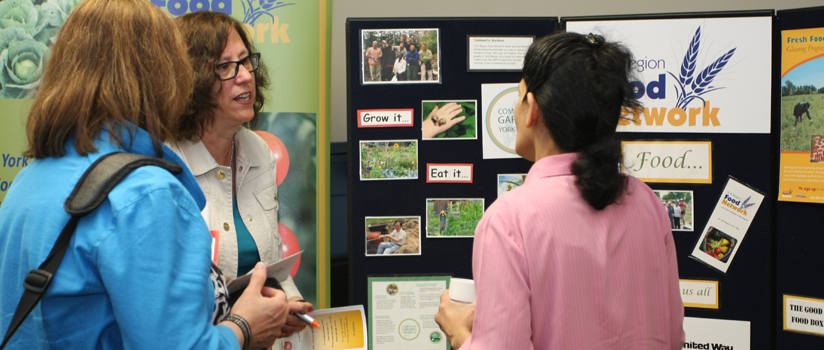 Knowledge Mobilization

Innovation York's Knowledge Mobilization (KMb) unit is a national and international leader in knowledge mobilization. The KMb unit has a suite of activities that create connections between researchers and community and government organizations in order to support the development of research partnerships and dissemination of research results, as well as a suite of training tools to teach you how to develop and implement knowledge mobilization strategies.
The KMb unit provides a single point of contact for researchers and trainees seeking community partners and for community organizations seeking academic partners. We assist with the development of these relationships, in order to facilitate the creation of innovative research projects.
Interested in connecting and collaborating with researchers at York University? Submit a Collaborative Research Request
In order to bring researchers and community organizations together for initial conversations and to explore potential collaborations, the KMb unit hosts events throughout the year called "KM in the AM". Each event has a specific them (e.g. aging in the home), comes with a hot breakfast, and is an opportunity for researchers and community organizations to connect and explore mutual areas of interest.
KM in the AM Summer Webinar Series
We provide learning opportunities for York researchers, staff, graduate students and external partners to help make research relevant to professional practice and policy development. We can deliver customized learning sessions to your research team.Examples of learning sessions we have offered in the past include:
Building a Knowledge Mobilization Strategy
Impact and Accountability in Knowledge Mobilization
Clear Language Writing and Design Principles
Research Snapshots – Clear Language Research Summaries
Social Media for Research
Social Media Strategy Building for Research Teams
Hands-on Training in WordPress and Twitter
Knowledge Mobilization is increasingly important in research in Canada. Granting councils are seeking a clear and comprehensive KMb plan for many grants. We are trained to provide assistance in the development of a tailored KMb plan. We can provide training and support, and in some cases in-kind service support for your project. We can review and provide feedback on all KMb plans prior to their submission.
The KMb Unit has developed a number of resources to help researchers plan, develop and implement effective activities to help maximize the impact of their research. View the KMb Resources page.
Knowledge Mobilization Annual Reports
---